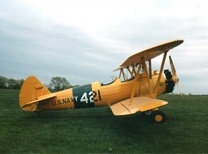 New data protection laws come into effect in England on 25 May 2018.   There is a useful article which explain the laws on the Which? Website, here: https://www.which.co.uk/consumer-rights/regulation/general-data-protection-regulation-gdpr.
We take our data privacy responsibilities very seriously at Southern Aircraft, and we want you to understand and feel confident about how we collect, store and handle your personal data.   Our new Privacy Policy explains this, and sets out the rights you have in relation to your personal data. 

IMPORTANT NOTE: When we refer to "information", we are NOT referring to your financial information.  We never have access to any of your financial information, as all sensitive financial information is held securely by Stripe, the payment processing company that we use.  Stripe never share this information with us, and they have very strict rules on how they handle and store your financial data, which can be found at https://stripe.com/gb/privacy.
How we collect information
When you complete your application form online, you enter various pieces of information about yourself and your aircraft.  This information is stored on our system and used to generate your documentation and for contacting you.   The 'application form' section of our website uses cookies to help you complete it and to remember you if you make another application with us.  The rest of the website does not use cookies.
Who has access to your information
We will never sell your information on to anyone else.
The information that is contained in your Trust documentation is passed on to our US agent, Aerospace Reports, as well as to the Federal Aviation Authority. 
In the interests of safety, legality and clarity in respect of the ownership and operation of the aircraft, we must pass your contact information on in certain circumstances, for example:
-       To the emergency services or an aviation authority (in the event of an aircraft accident or incident, for example)
-       To an aviation authority or airport authority, if they request your information as related to an overflight, a landing or a fuel uptake, for example.
We never pass your information on to a 'civilian' – for example, we often receive enquiries from people who are interested in purchasing one of the aircraft in Trust with us, or who have seen an N-registered aircraft at their local airfield and want to know more about who owns it.  In circumstances like this, we explain that we cannot give any information and we simply pass the enquiry details on to you, so that you can decide whether to get in touch with the person.
How we use your information
We use your information to prepare and submit your Trust documentation to the FAA, and to contact you with regard to your specific aircraft (for example, to let you know when renewable documents such as the Certificate of Aircraft Registration or the FCC Radio Station Authorisation are due to expire).  
We also pass on any Emergency Airworthiness Directives or Operating Manual Updates that we receive with regard to your specific aircraft.
Although we do not send out any kind of regular newsletter or similar, we use your information to try to keep you informed if we become aware of any legislation or changes which may affect you with regard to your specific aircraft.
How we store information
We keep an electronic spreadsheet of all clients.  The spreadsheet contains all the information that you have provided to us in your application, as well as details (dates and a short summary) of any contact we have with you after your initial application is made to us.  This spreadsheet is stored securely in a password-protected Microsoft OneDrive network folder on a secure server.  All devices used to access the spreadsheet are password-protected. 
We also keep paper records for your aircraft, including items like copies of correspondence with you, your Certificate of Aircraft Registration, your FCC Radio Station Authorisation and the like. These paper records are stored in locked filing cabinets, in our secure offices (which are only accessible via an external and then an internal locked door).
If your Trust Agreement with us ceases (if you sell your aircraft, for example, or move to another Trust company) we are legally obliged to keep your information for at least six years, for accounting and tax purposes.   Once this time period expires, we delete your information and securely shred any paper records. 
Your rights
You can ask us at any time what information we hold about you, and we will give you full details free of charge. You also have the right to ask that your details be deleted, amended or transferred (bearing in mind our legal obligation to store certain details for at least six years for tax and accounting purposes).
Last updated: 20th May 2018