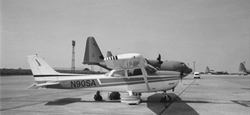 Southern Aircraft Consultancy is the leading professional aircraft registration company in the UK.

We specialise in providing Individual Trust Agreements to non-US citizens to enable them to legally register their aircraft on the American "N" register.
We will provide you with a fully Approved Federal Aviation Administration (FAA) Trust Agreement and all supporting documentation. Our Trust Agreement is individually drawn up for you and your aircraft, providing you and your aircraft with complete security.